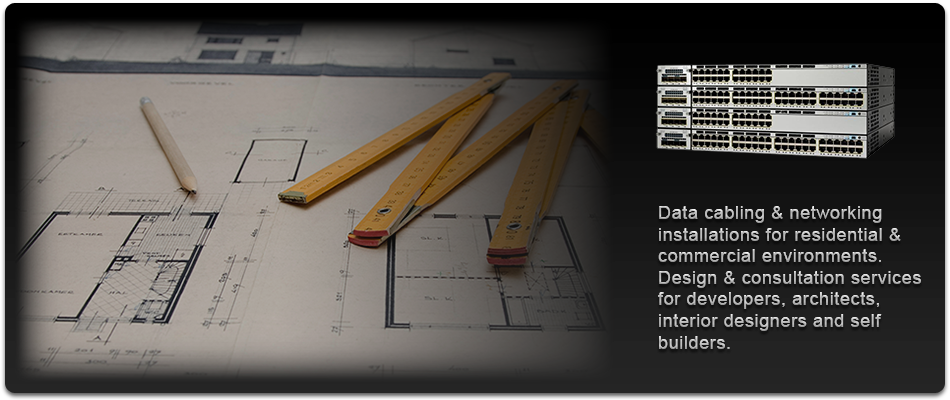 Smart Home Design & Consultation Services
Wiring & infrastructure design, system specification & consulting services for anyone designing a smart home.
Provide colour coded wiring schedules & corresponding coloured cabling for first fix by 3rd party contractors.
Conduct supervisory visits / inspections during first fix by another contractor to ensure correct installation.
Design stage consulting with architects, interior designers and others to ensure the most efficient and functional scheme.
Liaising with related trades at design stage to ensure the specification of the most compatible / appropriate systems.
Data Cabling Installations, Telecoms & Networking
Data cabling infrastructure design & installation for wired ethernet points in residential and commercial environments.
Infrastructure design & installation of Wireless Access Points (WAPs) for seamless, uninterrupted Wi-Fi signal.
Tiered networking schemes, LANs & VLANs for residential and commercial purposes.
New installations, conversions and refurbishments for office data cabling and IT systems, including Rack installations.
PBX telecoms installations, including virtual PBX / VOIP systems for various environments
Information Technology
All I.T. related services for both residential & commercial customers.
Custom design & specification of Windows Servers, Media Servers & Network Area Storage (NAS)
Disaster recovery policies, RAID protection, on & off site backup, cloud backup & storage.
Bespoke service & maintenance contracts with various levels of callout cover.