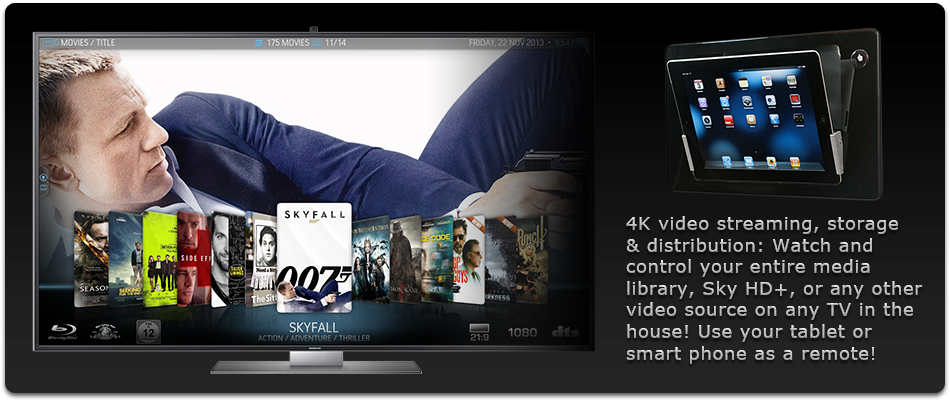 Multi Room Audio Systems
Distribute music throughout your home & play via freestanding, in ceiling, in wall or even invisible speakers.
Listen to different music in different rooms or link zones together at the touch of a button.
Integrate with your existing media collection, or stream from Napster, Tunein and other online services.
Control from room remotes, in wall controls, PCs, smarts phones and tablets.
Multi Room HDMI Video Distribution
Distribute 1080p or even 4K UHD high definition video to TVs throughout your home.
Switch between and control up to 16 video sources all hidden away in your AV rack.
Keeping your sources in the rack means that screens can be flat to wall with no set top boxes in sight.
Control all your set top boxes with a single room remote, in wall controls or even portable touch screen devices.
Home Cinema
Brilliantly clear, vibrant and astoundingly life like projected images that can fill even the largest screens.
Mind blowing surround sound audio meeting the very latest Dolby and THX standards.
Rekindle your love of immersive 3D titles that are finally done justice on "the big screen."
Simple unified control from a single remote for easy everyday use by the whole family.
Incorporate lighting, curtain / blinds, electrically retractable screens / projectors to transform a room.
Purpose built, luxury cinema seating - available with all the creature comforts.